Do not fear - the Holland's Pie Finder is here!

Chippy

Supermarket

Convenience

Stadium

Other
Please note we cannot guarantee all of our range is stocked in supermarkets, selected stores may stock a selected range.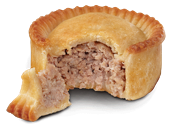 WHAT'S THAT, NO HOLLAND'S IN YOUR AREA?
Let's sort that out right now!
Our Pie Finder does exactly as it says – finds Holland's pies as near to you as possible. Whether it's just around the corner at your local convenience store, or at a supermarket so that you can really stock up, our eyes are on the pies.
And let's be honest, it's worth the walk or drive if needs be, isn't it?
No pies? We can't believe it either. It's true - there are some places yet to discover the great taste of Holland's Pies and Puds. If one of those places is your local chippy or supermarket we implore you to bring an end to the madness by either a) telling them, or b) telling us - just drop us a note and we'll sort 'em out
CONTACT US